---
Address:Václavské náměstí 4, Praha 1. It's located at the main crossing on Wenceslavs Square and Na Prikope. (nearest underground station is Mustek)
Phone: 02 962 494 44
Hours: mon-sun 6pm-4am
Admission: $2
specials: Salsa, jazz dancing; life concerts; Cuban Salsa and Merengue DJ's after 10:00 p.m every night
editor: Great food and entertainment if you like southern American dances. It is a little bit too expensive, though. For their menu check their web site. It's interior looks the same as it did on the opening day in 1929!
web address: www.delux.cz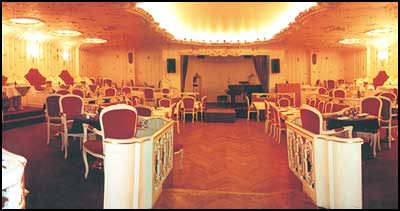 ---
Address: Praha 8- Karlin, Krizikova 55
Phone: 02 232 20 98
Hours: mon-sat 11am-2am; sun 4pm-11am
Admission: non
editor: This is one of the most snugly (pleasant places) in Prague I ever went to. In the summer time you can get a table outdoor, when it's cold outside there is always room inside. Especially downstairs (there are two floors) is a large table for even a bigger group of guests. There is also a small dance floor for those who know how to dance Charleston or Fox-trot or any other classical dances. Meals and service are also excellent-at least in my opinion. If you decide to go there I'd book a table in advance.
---
RADOST FX- RESTAURANT

Address: Praha 2, Belehradska 120, (Nearest underground station I.P.Pavlova)
Phone: 02 24 25 47 76
Hours: 10pm-6am
Admission: no (for the restaurant)
editor: It's quite expensive but the offer is large including many specialties of foreign cooking. It's also nearby the music club so you can stuff yourself after or before going there.